2 DAYS CHILD PORTRAIT MASTERCLASS with Magdalena Berny
10th & 11th of September 2018 INDOOR SESSION & OUTDOOR SESSION & EDITING STEP BY STEP
We love to invite you to come along and join Magdalena for an exclusive hands-on workshop.
This Master Class is the opportunity to show you how Magdalena sees the world, how she uses the light and shadow to build her own quite distinctive style.
For that, we will take you to the most magical and incredible place in Scotland.
For these two days, we will take you to a place where history goes up 1480 when the first foundation stone was laid.
You will enjoy the atmosphere of this place and the company magnificent participants.
During the workshop, Magdalena will share with you how to prepare the session to save the time on editing.
She will show you how to best use the light based on the pose and location.
She will show you how to shape different face type with light and why and when to choose certain lenses and understanding angles.
During the post editing, she will share with you how to create own quite distinctive style using Lightroom and Photoshop.
As a bonus, all participants will get a bundle of Lightroom presets created by Magdalena Berny.
This is truly an intensive master class, which will change participants and push them to take out of their comfort zone and this creates results.
Magdalena will only expect 8 to 10 participants in order to pay close attention to each attendee.
Carberry Tower Mansion House, Carberry Tower Estate, Carberry, Nr Musselburgh, East Lothian EH218PY.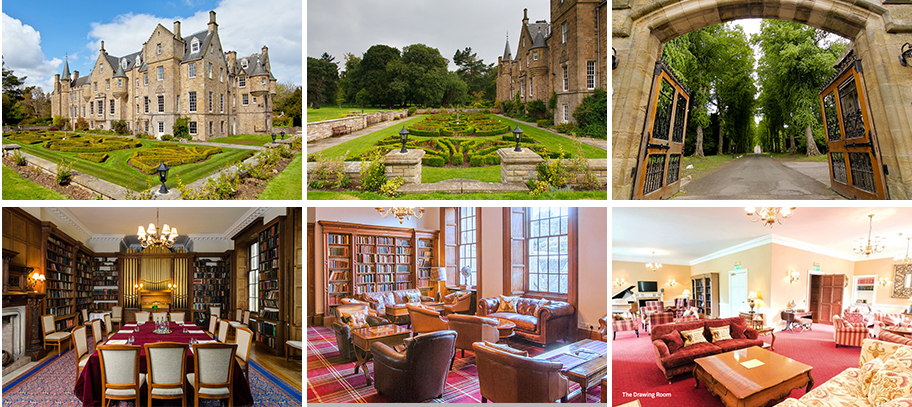 1st Day – 10th September 2018
10.00 – 10.30 Introduction during the morning coffee
10.30 – 13.00 Presentation (techniques and inspiration).
13.00 – 14.00 Lunch Break
14.00 – 18.00 Photo-shoots indoor and outdoor
19.00 – Dinner
2nd Day – 11th September 2018
9.00 – 10.00 Breakfast
10.00 – 13.00 Post editing step by step
13.00 – 14.00 Lunch Break
14.00 – 16.00 Photo-shoots indoor
What to bring:
Your camera and favourite lens (best 50mm and 85mm) as you will be taking photos.

It is required that you have sound working knowledge of your camera as we will be discussing exposure and metering throughout the day.

Wear comfortable clothing.

Drink bottle.

Notepad and pen.

Laptop with PS and LR.
Investment:
Price for 2 days workshop is: £680
The price of the workshop includes - 2 days Masterclass, 2 lunches and snacks during the days, dinner and B&B.
All attendees will stay at Carberry Tower Mansion House in a double room with 2 single beds.
For booking single room please contact us: hello@dreamsfactory.co.uk
Terms and Conditions
Registering to attend a photography workshop indicates your acceptance of the following terms and conditions.

1. Registration is accepted first come first served based on receipt of a completed registration form and payment of the registration fee. Payments may be made online with a credit card.

2. Participant has to pay a £230 deposit for this workshop to book your place. The next £230 needs to be paid by the end of the February 2018. The final amount £230 needs to be paid the latest 5 weeks before the Workshop which will be 6th of August 2018.
3. Each stage of the payment is non-refundable but the place can be transferred to other attendees If you are not able to attend the workshop.
4. Failure to pay the remainder of the fee will result in your losing place in the workshop and you will not receive a refund of deposit.
5. In the unlikely event that the workshop is cancelled, you will be notified as soon as possible and any fees or deposits received from you will be refunded. Please note that any travel or accommodation costs will not be refunded for cancelled courses.
6. Because of unpredictable weather or other things beyond our control, photography workshops must remain flexible. This means that the descriptions and itinerary are an indication of what we may do in the workshop, rather than an absolute promise of items and activities.

7. Outdoor workshops may require walking for several miles over uneven ground, managing pests such as ticks or mosquitoes, inclement weather, and other unforeseen difficulties. If you have concerns about your own capabilities and/or fitness, please contact Dreams Factory Photography before registering. By submitting a registration form you certify that you do not knowingly have any condition that would create a risk for you or other participants.

8. Participants will receive two emails before the workshop:
1) a confirmation of registration and payment.
2) Details on where and when we will meet, recommendations on clothing, camera equipment and other gear, and a reading list to help you prepare for the workshop, as well as contact information, should you have any questions.

9 Dreams Factory Photography is not responsible for any personal injury or damage to property arising from incidents occurring at the workshop venue.

10. If you have a complaint, or you are not satisfied with your workshop you should tell us about it at the time so that we have an opportunity to put things right. If you feel or felt that you could not raise the issue at the time, you should make your complaint no more than 14 days after the workshop ends.

11. You are responsible for your own travel and medical insurance. It is up to you to obtain the appropriate insurance to cover loss, expenses and damages arising from, including but not limited to, the cancellation of all or part of the workshop, personal accident and injury, medical and repatriation costs, loss of baggage and personal money and belongings and flight cancellations and delays.
12. Dreams Factory Photography is not responsible for any personal injury or damage to property arising from incidents occurring at the workshop venue.
13. Photo Release By attending the workshop you give permission for photographs to be made of you and for those photographs to be used to promote Dreams Factory Photography workshops or to be used for any media for any the purpose which may include, among others, advertising, promotion, marketing and packaging for any product or service.
14. Attendees are not permitted to use images taken at the workshop for commercial purposes. Image usage is strictly portfolio use only (website and online). Social media usage is allowed but only to showcase your portfolio. Images must not be submitted to magazines, exhibitions or competitions without permission. Images must not be used to advertise photo shoots, workshops or products.
15. Attendees agree that they may be subject to legal liability if they use any images commercially.
16. Attendees must not film or record the workshop at any time without permission.
Payment Plan
The remaining workshop fees need to be paid to the following bank :

Bank Transfer:
Dreams Factory Photography - Halifax
Account Number: 10065760
Sort Code: 11-05-66
IBAN: GB95HLFX11056610065760
By PayPal
hello@dreamsfactory.co.uk
Please, not 4% Service fee will be added to PayPal or card payments.
Event partners: